Cabot Trail in 4 Days July, 20th to 23rd 2023
THIS EVENT IS FOR MEMBERS ONLY!! BUT THAT'S OK, YOU CAN BE A MEMBER TOO, ONLY $10.00 FOR ADULTS*
Recognized as one of the top 10 Cycling destinations in the world, the Cabot Trail is a "MUST" on the bucket list of every cyclist. It's three hundred kilometres of paved roads, from softly rolling terrain to steep climbs and descents. You will wend your way through the quiet Margaree River Valley on the first day, then ride along the shores of the Gulf of St.Lawrence the second day, the scenic Highlands National Park on the third, and end your journey along the Atlantic coast of Cape Breton Island. The Cabot Trail in 4 Days tour is fully supported and everyone gets to cycle at their own pace and style. No pressure, with lots of time and opportunities to explore, swim, hike and even shop.
This tour is open to members of Velo Cape Breton. Memberships can be purchased on this site for $10.00 and are open to all. And no, you don't need to live on Cape Breton Island to be a member. The tour is limited to 30 cyclists.
Information
We provide: 3 nights accommodation, luggage transportation, two support vehicles at your service should you need a lift or other assistance, breakfast Friday, Saturday, and Sunday, dinner Thursday, Friday, and Saturday, Park fees, and snack food (fresh fruit and baked goods) enroute. Children 16 – 18 years, must be accompanied by a cycling adult. Lunch is not included. We have two van drivers and two cycling guides. All four individuals are very familiar with the area and the route. We aim to give you a unique cycling experience with a full immersion in our culture and our spectacular landscapes.
There are also optional add ons: on day two in Pleasant Bay a whale watching tour will be available. And on day three you can book services such as massages at the Keltic Resort Spa or play golf. Charges for these options are in addition to the tour fee and will be set when the operators open for the season in early spring.
Day 1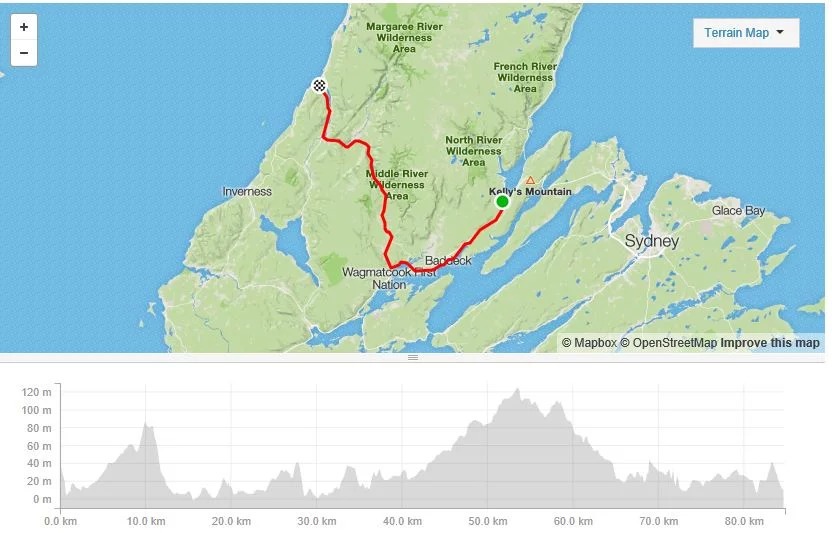 Day 2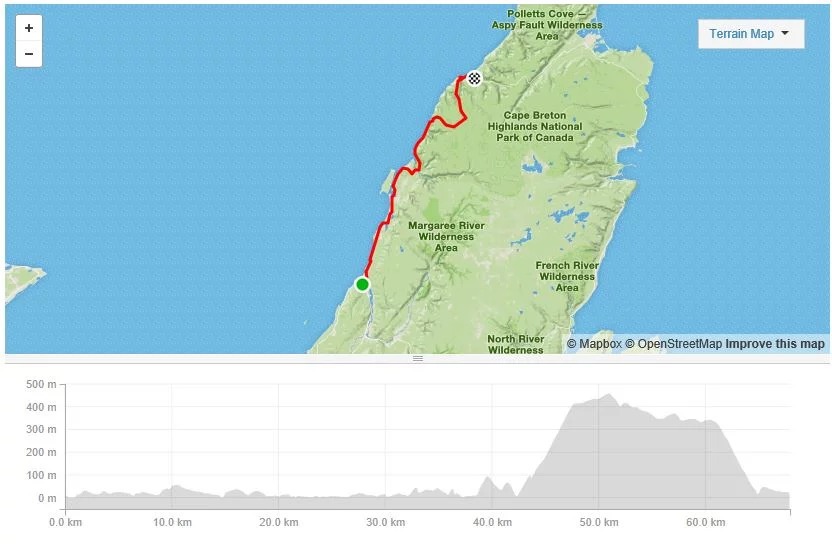 Day 3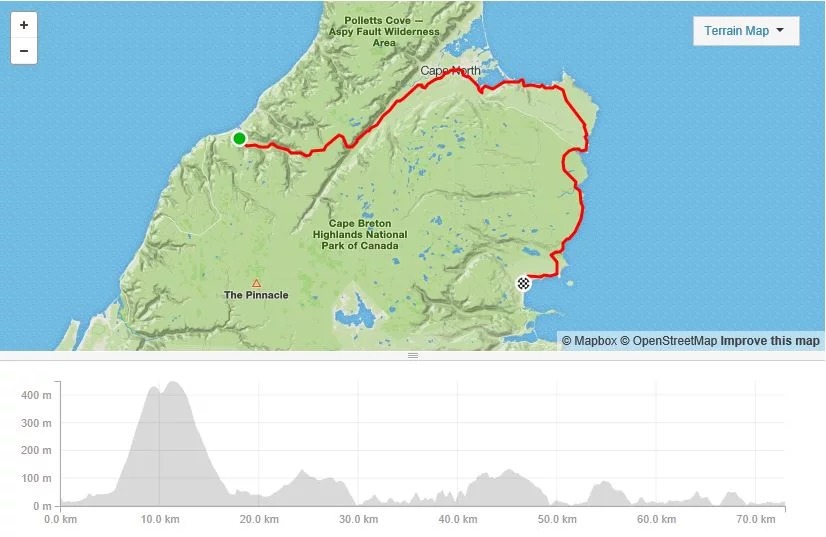 Day 4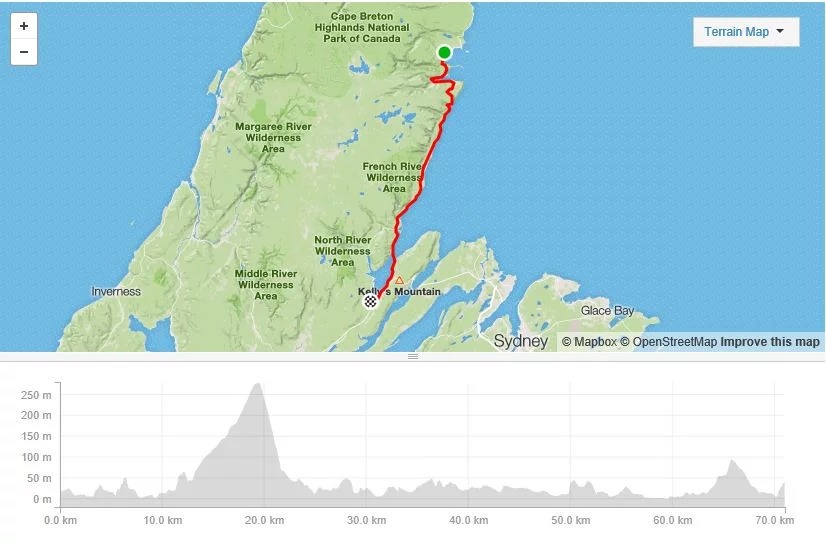 We will deliver your luggage to a central point at your accommodations by the check-in time each day. We have a strictly enforced luggage size limit – each person is limited to one carry-on piece of luggage, measurements not to exceed 55cm x 23 cm x 40 cm including handles and wheels. This restriction allows us to use both vans during the day to service all the riders at multiple pit stops and to ferry people in case of a breakdown or extreme weather.
Cycling the Cabot Trail requires a moderate level of fitness. Bicycles must be in good working order. We will have basic tools and bike stands that participants can use. We do recommend that you carry spare tubes and a chain. There is one bike shop along the route that can be accessed on day two for services. We do not provide bike rentals but they are available at Frameworks Cycle and Fitness in Sydney.
Prior to March 1st registration $125.00 final payment due April 15th $850.00 per person double occupancy.
After March 1st registration $150.00 final payment due April 15th $850.00 per person double occupancy.
After April 15 payment in full $1000.00 per person double occupancy.
Single occupancy surcharge $260.00.
We have a strict cancellation policy.
If Velo Cape Breton is required to cancel the ride due to Covid or any other reason we will refund 100% of the funds you have paid.
If you cancel before April 15 we will refund $50.00 of your registration. If you cancel after paying the full amount we will only refund your total payment if we are able to resell your spot. If we are unable to resell your spot we will not refund any monies. We advise that you purchase cancellation insurance from your insurance provider.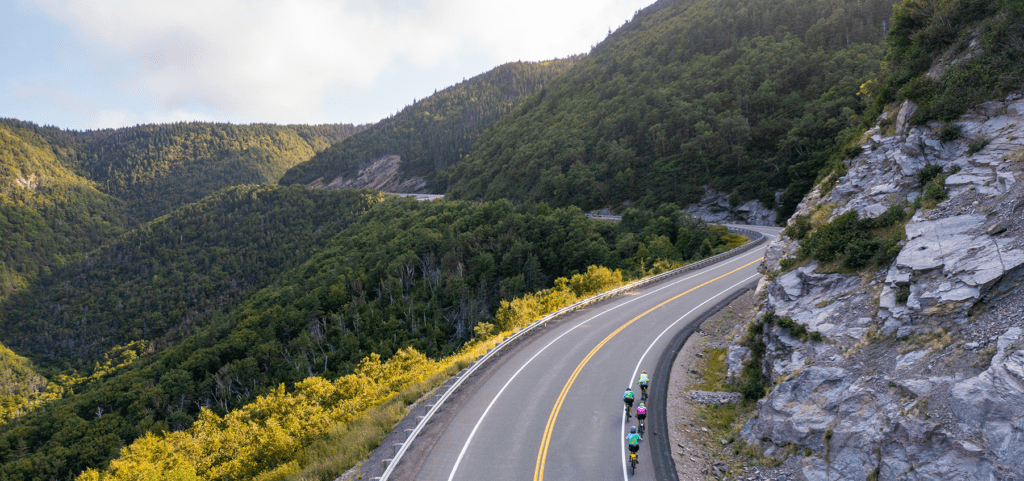 Frequently Asked Questions
We have a saying "don't like the weather drive 20 kilometres and it will change". And as silly as it sounds it's true. Because we will be next to the ocean the weather can vary quite dramatically. We can have very hot weather, as in 30ºC, and very cool, as in 15 ºC. And of course, we can also have rain, mist and wind. We advise coming prepared for all conditions.
If it's just raining, we expect people to cycle in rain gear. If it's extremely windy and difficult to maintain position on the road we will ferry people to a safer location. But we will only be able to move a few people and bikes at a time. If there is extremely bad weather such as a hurricane we will shelter at our accommodations until it is safe to travel and will have to adjust the schedule.
We expect everyone to be self-sufficient, we will have basic bike tools and bike stands in both vans. We don't provide bike repair but will help as best we can. There is a bike mechanic in Cheticamp who is very willing to help if he is available. If your bike can't be repaired, we will ferry you for the remainder of the trip. We advise that you bring spare tubes, a chain and even a tire.
We travel clockwise around the Trail. This means that the cyclist is always on the inside edge of the road, and we feel it is a significantly safer route. The beauty of this highway is that it is on the edge of the mountains, but this also means that the road is narrow with no escape route on the waterside. Don't worry the views are still fantastic from the inside edge of the road.
We generally can accommodate most limitations. The best thing is to be very specific on what is allowed and what is not. For example, if you don't eat dairy please indicate whether you are lactose intolerant or allergic to all dairy products period. The more information we have the better your experience will be. We are travelling through small towns with limited access to specialty food, but it's very easy for us to buy it before hand, or for the restaurants to order ahead.
Actually, we don't. We supply fresh fruit such as bananas, oranges, watermelon, grapes and strawberries. And baked goods such as cookies and energy balls, which are homemade and vary from year to year depending on the food restrictions. In addition, we have trail mix. We also supply Gatorade powder that can be added to water in your water bottles. We recommend that you carry two water bottles. We do not use any plastic disposal packaging but do supply paper bags if you want to carry snacks with you. We will follow all food handling protocols re Covid-19.
We can't guarantee that you will have access to your luggage while on route. If you think you're going to need a jacket etc. it's best to have a small pannier that you can carry what you need with you. Typically, one van carries all the luggage, but both vans service the pit stops, as a result the van with the luggage may not be at the pit spot you want it to be. Also, the luggage is packed tightly and getting to your bag may be impossible. We aim to have the luggage van at the accommodations by the check in time.
We will arrange with a tour company in Pleasant Bay for a late afternoon tour generally at 4pm. You will book directly with the tour operator and pay for the tour. We will notify all the participants of the tour details when the operator opens for bookings in the late spring. I want to access the Spa at the Keltic Lodge; how does that work? We will notify all participants when the Spa posts it's updated price list. You can then make appointments for the services you want. You will be responsible for all charges.
The most important thing is that it be in good mechanical order and a tune-up before the trip is a good idea. Most people are using hybrids or road bikes with slightly wider tires. But we've had participants who used mountain bikes and comfort bikes. And in 2018 we had our first e-bike. The rider was 87 years young, and since then we have had several more. So your bike type is really up to you and the type of experience you want.
We accept single registrations at the double occupancy rate. We then match up the single males with other single males in rooms with two beds and do the same with the single female participants. If we are unable to match you up you will be required to pay the single occupancy surcharge of $260.00.
We will be riding through sparsely populated areas for much of the tour, however cell phone reception will be mostly available until we get into the Cape Breton Highlands National Park. Within the park, there will be no cell phone reception at all, so preparations to meet up with others or make strategic stops must be coordinated ahead of time. Also, riding with a buddy is a good idea through the park, not just for the companionship, but in case of trouble, you will not be able to call the support vans.
The only thing we know for sure is that we will follow the regulations and recommendations of the Government of Nova Scotia to the letter. To see the current regulations see this link: